I recently won a Fire King catalog binder from the early '80s off of eBay. Fire King (not related to the glassware people) was a major FA distributor in the NY state area.

Here's a snippet of the seller's description:

The Catalog features all kinds of FA stuff, from panels, to smoke detectors and alarms, some pulls and NAs, door release magnets and others.



Here's a pic of the fromt:


- Check out the interesting 4050-80 style alarm plate there!




- Auth versions of BRK system smokes. I never knew the top model existed,

I've seen the one on the bottom at the Mark Twain historic home ca. 1985 or so. WANTED, either version.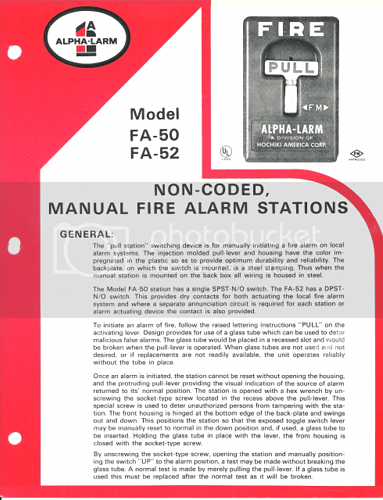 - Alpha-Larm (Hochiki) FA-50/52 pulls. thesdx has the Harrington Signal version

of this one.




Statitrol 306M detector. Very interesting.


- Back



I'll post more later.