I recently got my Simplex 2098-9636 and have no idea how to use it. pls help
First off, you have a base to use it with, right?
yes, I have a 2098-9637 base with a square relay thing connected to it

Alright. Hmm…I'm not really familiar with these bases myself, but one of the terminals should be marked "-" & the other "+".
they are but i need to know how to wire my detector and if I can use it with my Fire-Lite MS-2
I believe that like with most 2-wire detectors you're supposed to connect a wire from the positive smoke power terminal on the panel to the positive terminal on the detector base, & another wire from the negative smoke power terminal on the panel to the negative terminal on the base. I'm honestly not sure if this detector is compatible with the MS-2 or not, you might be able to find out in the manual though (make sure to check first, since you might otherwise fry the detector trying to use it with your MS-2).
my MS-2 uses a normally closed initiating device circuit
I'm not sure if the relay will be a problem tho
Normally closed? That doesn't make any sense since pretty much all fire alarm panels wait for the circuit to close before going into alarm, thus it should be normally open.
Not sure of the relay either, though I don't think it should be a problem as long as you wire the detector correctly.
also, I don't have the manual
I have a MS-2 Manual but no detector manual
The MS-2's manual should say if the detector's compatible or not.
I don't know what to tell you then. I don't know if the detector will work with the MS-2 or not, or whether it can even be powered with 9V batteries without blowing up (which some detectors, like the 2-wire i3, are susceptible to).
I don't have the detector manual tho since I got mine used off of eBay
I know you don't have the manual, but it won't say anything about the MS-2 anyway since this detector was made years before the MS-2 came out.
The compatibility sheet for the MS-2 does not list the 2098-9636. The 2098-9637 is a relay base designed for supervision for four-wire detectors. You can try to wire it up but keep in mind that it may not work properly, if at all. Below is a diagram roughly illustrating how you'd wire a relay base to your resettable power terminal: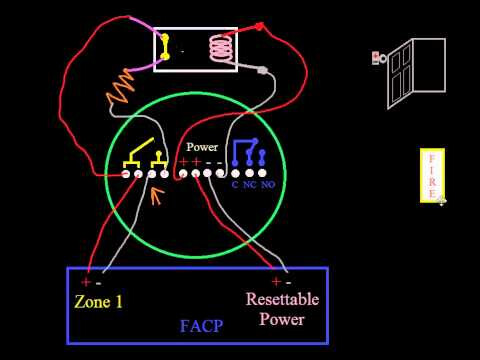 Below is a link to a series of drawings to help you wire up the base. The drawing for wiring the 9637 base in Class B is on page 2: https://firealarmresources.com/wp-content/uploads/2013/06/Simplex-Field-Wiring-Diagrams-for-Smoke-and-Heat-Detectors.pdf
That's why I warned him about trying to hook it up, since he might end up frying it if it's not compatible with the MS-2.
I bought a regular base and used that and it worked on the ms-2 (I did some research before and found out that the detector is compatible)