I was going to post this in my FA pics topic, but I think it deserves its own topic. Anyways, this is the FA system at a hotel I was staying at, that was renovating. We had made reservations here months ago, and they were supposed to be done, when they came across asbestos. Starting with the newer system in the hotel:






-The new sprinklers that were installed, notice some of them have an orange dust cover? Is what I assume it to be.






-In the renovated part of the hotel, you can find this: Edwards Genisis Horn/strobes.






-You will also find these new EST smoke detectors around renovated areas.






-The pulls installed, newer Edwards 270-SPOs.






-Here, taken in a stairwell, is a newer EST smoke detector installed beside an older Edwards smoke from the original system. Both of them seemed to be in operation.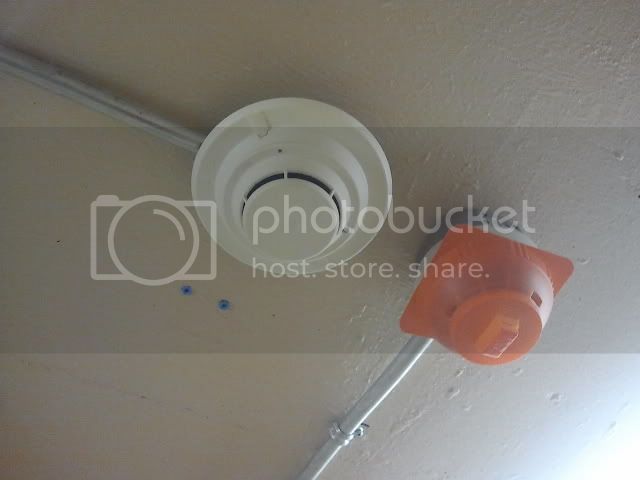 -Here is another setup with a newer smoke installed beside an older smoke, the newer smoke still has a dust cover over it.






-An Edwards Genisis, a sprinkler, and a fire extinguiser case.






-Here is a fire hose, which was kept as they renovated the area around it.






-Here is what one of the renovated hallways looked like in the hotel. Note there isn't a carpet installed yet. Below it there is an unrenovated hallway.






-An Edwards 270-SPO that looks like it was recently installed there.






-This is either an EST panel or annunciator.






-Around the first floor, you can see these semi-installed Genisis, with/without dust covers.






-The pool emergency system, which is a push button and an Edwards Adaptabeacon.






-One of the 270-SPOs in the pool.






-A smoke detector with its dust cover still installed on it.






-At the entrance of the pool, an Edwards 270-SPO and an Edwards Genisis with its just cover still on it.






-Another Edwards Genisis which is semi-installed.






-In the basement of the hotel now, is another semi-installed Genisis and a smoke detector.






-Moving on to the rooms, this is one of the renovated ones, is a mini horn, a smoke detector, and wall mounted sprinkler.



On to the original/older system.






-Part of the original system, here is an older 270-SPO which has collected alot of drywall dust.






-Also part of the original system, is this Edwards heat and 2 Edwards smoke detectors.






-The original systems NAs were fire bells. This one is a Mircom 6" bell, replacing an Edwards durabel, the original signals.






-3 smoke detectors, don't know the model # for either of them.






-One of the original smoke detectors, covered up.






-Another bell that got replaced with this Edwards 4" adaptabel.






-Where a smoke detector once was, it was uninstalled.






-Another Mircom 6" bell with a trim plate.






-Here is one of the original bells, an Edwards 10" Adaptabel.






-Here's a change, an old Edwards heat detector.






-Also in the basement, is this older Edwards 10" Durabel, and a newer Mircom 6" bell.






-This is one of the sections being renovated, you can see 2 Edwards Durabels in the distance.






-Another change, a Mirtone pull station.






-An older 270-SPO without a glass rod, and one with a glass rod.



The only thing that had me wondering about these systems were how they would both work if one of them was set off. This actually did happen, The older system was set off, which was set to continuious. All of the fire bells went off, but the horn/strobes never went off at all.