What can I say, I don't know everything about the companies that make up the fire protection industry.
Clients want the best performance… that they can get. Everyone is on a budget these days and just because Simplex or Siemens or EST may have offerings doesn't necessarily mean they are the best option.
The electrical contractor sometimes doesn't make the choice, sometimes it's the designer's, engineer's, or owner's choice. For a lot of buildings, they are done in a design-bid-build format, where the alarm system is designed by a design firm, who will then submit that design to be bid on by alarm installers. The designer may not necessarily specify a manufacturer, but if there's a bid between Installers X, Y, and Z, who are Notifier, Simplex, and EST respectively, if Installer X wins the lowest bid, then the system will be Notifier.
Sometimes the owner will list in their specifications a preferred manufacturer. The most notable I can think of is the Department of Defense, who will almost always spec out Monaco for any DoD or armed forces facility. This is because of Monaco's radio, point-to-point transmitter, which can also transmit specific device information. Most monitoring companies can't do this, but Monaco's equipment can.
Neat! Thanks for sharing Robert. I've read a book, "Low Voltage Wiring", and it did explain the bidding process some. I've always assumed that our shop drawings were made in-house and were the design, but you've explained that that's not always true. The company I'm at actually does have some military base contracts; we're a Honeywell dealer, put in about a dozen or so Notifier NFW-50x systems. Not sure if there's a Notifier NFS-320 hiding somewhere in a heavily guarded electrical closet. I'm working on getting my NICET II, so hopefully I'll be able to know one day and not share.
Saline Middle School (Saline) - According to an old Ann Arbor District Library construction photo, this building opened in 1971 as Saline High School, which later relocated to its current structure about a mile away. Although the alarm system has long since been modernized, there are clues as to what the old system may have been. Unless otherwise noted, all devices are rebranded by National Time.
Panel/annunciators:
Unknown, presumably a National Time 900-series panel with voice capabilities
Detectors:
National Time D900-series smoke detectors
Pull stations:
National Time 541S models
Notification appliances:
National Time SG-CXSS speaker/strobes
Some locations have National Time C3-series strobes mounted on the walls.
It is worth noting that the school still has its square Simplex double-sided clocks in place, with some spots having newer round Simplex clocks installed. Unfortunately, many of them either were not working or were off sync by several hours. This could indicate that the original alarm system was a Simplex system.
North Station/TD Garden - Parking Garage - Boston, MA
Panel: Notifier NFS2-3030, located in a closet outside of the east entrance to the Garden.
Pulls: NBG-12LX's
Detectors: FSP-851's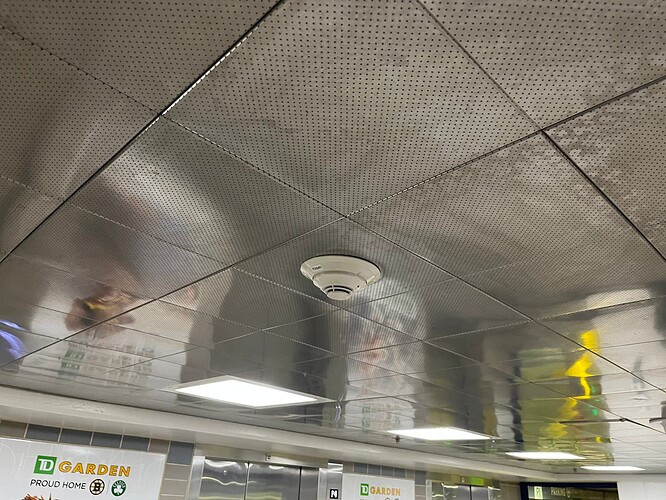 Signals:
SpectrAlert Advance speakers and strobes - yes, they're separate units.
My guess as to why the parking garage has separate visual & audible signals is because it appears the original signals were either 2903s or 4050-80s that were most likely wired as 2-wire (so the lights & horns would pulse together), & when they redid the system they didn't want to have to run an extra pair of wires for speaker/strobes, so they installed separate speakers instead.
You're correct that this is probably what happened.
The original signals were Faraday 6120 or 6140 horns behind SAE A32 strobe plates.
MBTA Red & Green Lines - Park Street
Same as JFK/UMass
MBTA Green Line - Lechmere
Pulls: RSG RMS-1T's rebranded by Potter

Signals:
Wheelock ET70WP speaker/strobes
MBTA Green Line - Union Square
Same as Lechmere. Both of these stations opened less than a month ago at time of posting.
MBTA Blue & Green Lines - Government Center
Panel: Simplex 4100ES, located in a closet on the Green Line level. There's a Remote Command Center hidden in a cabinet at the main entrance.
Pulls: 4099-9003's (this one appears to be from a late production run as it has the newer logo despite being a 4099-9003)

Signals:
TrueAlert speaker/strobes
Oh, had no idea that the original signals supposedly weren't Simplex, I guess I just assumed they were. Maybe, but as far as I know neither of those horns were used commonly with V32 plates; I believe it was more common for Vibratone 450Ds or a rebrand (such as Space Age's 2DCD) to be used instead.
Divine Providence Lithuanian Catholic Church (Southfield) - According to the congregation's official website, its current building opened in 1973. It still has its original system, but as described below, its days are very numbered.
Old system:
The original system consists of National Time 641 horns and National Time 641 pull stations, all of which are mounted at non-ADA heights. The panel is unknown, but it is presumably National Time.
New system:
The new system is not yet powered, but I would imagine that it gets activated in the next several days due to the amount of progress that has been made. The components consist of a Fire-Lite ANN-80 annunciator, Fire-Lite H365-series heat detectors, Fire-Lite NBG-12-series pull stations, and a mix of System Sensor L-series ceiling-mount and wall-mount horn/strobes and strobes. The panel is unknown, but I'm guessing it's a Fire-Lite ES-50X model or a close addressable equivalent.
Further evidence that the new system is going live very soon is that at least a couple of modules are hanging by their wires from new mounting boxes. Interestingly enough, every new pull station I saw still had its key inserted into the keyhole.
Glow Fish Studios (Wyandotte)
The notification appliances here consist solely of smoke detectors–three System Sensor 2312/24TB photoelectric and heat models, and one newer First Alert SA-series smoke detector.
Plaza Antiques & Collectibles Mall (Lincoln Park)
This system is interesting for a couple of reasons. First, there is a large room in the store with three Faraday OutSourced (FOS) 6227L-series horn/strobes, and I could not find them anywhere else.
Second, a larger room in the store contains two Wheelock 7002T-24 horn/strobes, one of which is gray in color and without the "FIRE" lettering!
MBTA Orange Line & Commuter Rail - Back Bay
Same as Park Street and JFK/UMass (Gamewell MS-95SD pulls and Wheelock AS horn/strobes)

MBTA Green Line - Prudential
Pulls: FCI MS-7AF's

Detectors:
ASD-PL2F's
Signals:
Wheelock MT horn/strobes
Weston Recycling & Waste Transfer Station - Weston, MA
Panel: Notifier AFP-200, located in the office.
Pulls: BGX-101L's

Signals:
Wheelock MT horn/strobes, and some older MT4-24-WM's
MBTA Silver Line - WTC and Courthouse Stations
Same setup as South Station subway
Since I can't make consecutive replies even if it's been several days since the last reply, I'll need to add more locations in an edit.
Some town buildings in Weston, MA.
Art & Innovation Center
Panel: Notifier NFW-series system of some sort (there's an N-ANN-80 at the entrance)
Pulls: NOT-BG-12LX's
Detectors: NP-100's
Signals: L-Series horn/strobes
Case House (Weston Public Schools Administration)
Panel: Fire-Lite system of some sort (there's an ANN-80 at the entrance)
Pulls: BG-12LX's
Detectors: SD-355's
Signals: L-Series horn/strobes
Weston Public Library
Panel: Notifier NFS2-640, located in the entrance area, installed in the location of an old graphic annunciator. This replaced a System 5000, which was located in the copier alcove. (the cabinet is still there but now has a solid door)
Pulls: NBG-10's, one of which was replaced with a Fire-Lite BG-12L
Detectors: System Sensor 2400's, one of which was replaced with a 2100
Signals: Wheelock MT-24-LSM horn/strobes, and WM1T-24 strobes in restrooms.