Hello and welcome! :mrgreen:

I JUST joined The Fire Panel Forums, and I first, before i show you the pictures i have, tell a little about me:



I was never always a fire alarm enthusiast. Due to my sensory processing disorder, the fire drills ( especially because the alarms we had were VIBRATONES ), i would scream and go into a panic attack when they would sound off. They gave me many memories of elementary school, i wanted to figure out what it was that alarm was. I did some research by watching some of Thesdx's videos, and Jason Howard's and Jon3800's videos, and finally figured out what i think was the alarm. In the process, i thought "hey this is kinda fascinating!" Now i watch a lot of NewAgeServerAlarm's videos, and stuff like that. I was able to memorize im guessing around 50 model numbers and names in about 6 months. I have a small team of collaborators that take pictures with me.



And now, this is the moment you came here!! My pictures:

WARNING: Some of these photos may be blurry. I apologize for that. Some of there were taken with my iPod, with has a low-quality camera. This shouldn't happen anymore.






Wheelock MT-24. My first fire alarm photo. YAY!






RIGHT OFF THE BAT!! A Wheelock 7004T-24! The pull station i think was a Simplex 4251-20.






Unknown Pull station. Its dual action and screwdriver reset.






Wheelock AS-24 and an RSS Strobe. The strobe oddly is facing the isle and the horn is facing the shelfs.






An extremely blurry picture of a Wheelock 7002T. That was the second time i had seen one.






An RSS strobe that said AGENT! Apparently that building has a suppression system.






Ansul fire suppression pull station used for restaurant suppression systems.






ANOTHER Wheelock 7004T-24. I keep finding Wheelock brand alarms for some reason.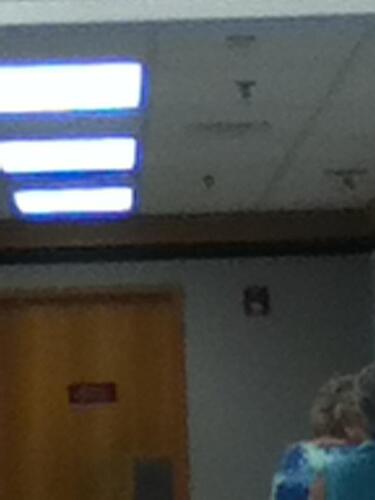 This is an ultra-blurry photo of a Spectoralert Classic. It is on the right side of the photo.






Ceiling mount Spectoralert Strobe. Its a remote strobe if i remember right.






This is the horn that goes with it.






Notifier BG-12 behind a stopper 2. It really was an odd spot for a pull station.






I knew right away what it was. Its a Gentex Commander 3 with a waterproof case.






Another BG-12.






A very nice photo of a Gentex Commander 3.






A Gentex Commander Strobe. This is what i meant as the photos to be somewhat blurry.






A picture of a Simplex Trualert.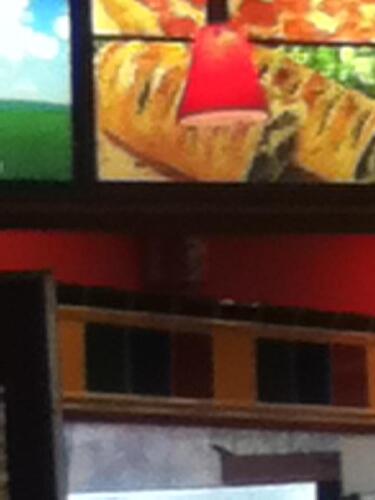 Its extremely hard to see, but thats what i belive to be a Simplex 4904-9219.






Its Simplex, but it could either be a mini-panel or an annunciator.






A Silent Knight panel. My first panel picture!






Just what you expected. ANOTHER Wheelock fire alarm. Its a 7002T-24.






Awesome!! A gamewell M-46 "Century". Still my best pull station find yet.






Just a bell.






Its weird how you can get the Simplex T-Bars mixed up. This one is a Simplex 4251-20.






WOW!! What a great find. A simplex 2901-9838 + 4903-9105.






OOPS! This one is missing its strobe cover.






Its hard to tell what this is, but its a EST Genesis on its huge trim plate thing.






Arguably the nicest looking Edwards 270-SPO ive ever seen. But whats with the lock on it like that?






A System Sensor MASS-M. This one is just an alert device and is this tan color.






A blurry ceiling mount Simplex 4903-9459.






Notifier BG-12. Not much else to it. :?






A better picture of a Spectoralert Classic.






One of my collaborators took this photo. Its a Lifealert speaker on a 2903! I want to see it IRL one day.






I was in absolute terror when i took this photo. Its one of those Seimens Copy-of-a-Wheelock ZNS.






Seimens MSX right above a filing hopper.






Unknown Seimens remote strobe. I took this while walking to the emergency room.






Seimens S-LP70-MCS-W speaker strobe.






Bright red Seimens MSX.






Cerberus Pyrotronics MS-501.






Its by Siemens. Its a speaker strobe. Thats all i know about it.






Cerberus Pyrotronics MSX.






NICE!! An ADA Faraday 5516 speaker strobe. I love this photo for some reason.






This is what it look like in the system. Its by the door on the top right if you cant see it.






Another Seimens Speaker Strobe.






A Seimens MS-501 with a R.A.C.E sign above it.






I believe one of these is an audible signal. There were no other signals near by.






A ceiling-mount Faraday 5516. This was by an area where they had these on the ceiling in a "conga line" spaced 3 feet apart. No joke.






The ominous lighting of this photo makes this alarm look so cool. At least in person.






The odd mounting of an EST Genesis.






WHOA!! A Simplex 4041!! This was only a door alarm. I think it was rebranded by Notifier because the tag was different on it and it was super hard to read it.






You cant really see it, but there's a duct detector there.






The only pull station type thing i saw in that system with the EST Genesis.






Another Ansul Pull station.






EST Genesis Ceiling mount. Im guessing they had a QuickStart panel.






A SimplexGrinnel Panel :?:






I have no idea if this is apart of the fire alarm system or not.






Its another Simplex 4904-9219!






Its a Simplex burglar alarm I THINK.






This is an old intercom speaker that they have at my elementary school. Its still in use and when i was there was apart of the fire alarm system as well.






An EST 278 pull station with the key in. Its in the office so its ok if the key is in.






An EST or GE QuickStart panel replacing the old panel that they had when i was going to school there.






This is what remains of the old panel that they had when i was there. I think its a Standard Electric panel. Its old i will tell you that.

It never used to say 'batteries' on it though.






What did the old system get replaced with? THESE






This is the location of one of the old alarms. It was near my first grade classroom.






This was outside my 5th grade classroom. The alarms were: Standard Electric 4-350s. They were rebrands of simplex 4040s. The ones in the main hallway ( where this one was ) were red and had semi flush-mount trim plates. The ones in the "pods" were gray and didnt have the trim plates on them. If you look closely, you might see where the paint sticks up. Thats were the trim was.



The pull stations were Notifier BG-8's. I didnt know any of this when i went there for school.






Its either a Silent Knight or System Sensor bell. This was installed when they updated the system.






This is only to prove that the system was a Standard Electric System.






Even though they used the old panel as a battery storage cabinet, they still put this in.






It looks like a Wheelock MT-24, but it was put with an EST system.






Yikes! An EST Integrity. Its INDOORS too!






A Wheelock NS behind a protective cage.






A blurry picture of an RSS.






I think this is the alarm i have seen the most in my life.






DERP! A Simplex TruAlert Strobe behind a waterproof case. I dought you are going to see the strobe flash behind that thing.






CHIME






Wheelock ZNS.






FireLite Anunciator. System all normal.






Mean lady behind the desk called me weird when i took this picture of s Wheelock AS-24.






Remember my first fire alarm photo? Well this is that very alarm. Its been damaged since then, even though the annunciator said their was no trouble in the system.






Dartronics scoreboard buzzer.






Remember my Faraday 5516 photos? Well here is another…






I cant believe i passed this that one time. Its a ceiling mount Faraday 5516 speaker.






WOW! A Space Age Electronics AV33 Light!






One of my collaborators took this: Ceiling mount Spectoralert horn strobe.






My first fire alarm type device!! Its an old First Alert Smoke Alarm. Yes its just a smoke alarm. No im not complaining about that. No i did not get it from my house.






Some kind of alarm device. I dont know what this is called.






This is at my school. In the 7th grade science classroom.






Also at my school: Edwards Integrity.






ALSO at my school.






Its an Amseco 486N 6 inch bell. I dont know if its in use at all or not. Its fairly loud though because it randomly went off one day and scared me.






Ceiling-mount RSS withits cover off. I think it got knocked off because its above a sports court.






I think that's an adaptabell at the center of the photo.






Duct detector.






Just your average Harbor Freight Tool store Wheelock AS-24.






FCI ASD-PL2 Ionization Detector.






I've been wanting a picture of one of these for a while. Its a Spectoralert Advanced PXR. X for i dont know if its 2 or 4 wire.






A Gamewell Apollo heat detector. It was in a kitchen so i think its a heat detector.






Its ionization i think. I cant remember the body of it, but the head is an R7 head.






A Gentex MX minihorn.






YAY! A 34T-24 horn.






Its not a Commander 3, but a Gentex Commander 2!






Gentex SHG.






Its by Gentex, but do not know the model number.






An Edwards 270 SPO with a GE logo on it.






A Simplex Trualert Speaker strobe at the RideMakerz in Disneyland. Many of the ones i saw had the Simplex and/or the Trualert logo sanded off.






Simplex 4904-9104.






Some kind of made up bell with a firefighter's relay below it at the fire station at Disneyland.






Wheelock Chime Strobe. It looks like a speaker but i thinks its a chime.






If you ever go to Space Mountain at Disneyland, look out for this Wheelock Speaker strobe. I think it was like 180 candlella but i dont think so.






OLD Wheelock Speaker with some kind of Wheelock strobe under it.






Simplex 4098-9714 photoelectric detector. I saw lots of these and a lot of them were painted.






Disney Magic. Gamewell local energy Masterbox.






Wheelock WMT-24 with a Wheelock speaker.






SimplexGrinnell bell.






It was too far away to tell what it is. it could be another FCI ionization detector.






Just get a 4251-30.






This is what i meant when i said the alarms at Disneyland were painted over.






LOL! An RSS strobe with the little Toy Story aliens around it!






Simplex 4906-9154 i saw once. Or a 100 times.






Simplex Speaker.






Simplex 4099-9761.






And here it is behind a stopper2!






I took a picture of the building evacuation poster that was in my hotel room.






At my school, they did a bad job at covering up the pull stations when they painted. That goes with the alarms too.






I got in trouble for taking this photo, but i never got like a detention or something. Here is my school's Wheelock AS-24.





And that is all of my alarm pictures i have so far!!! I will be posting more here when ever i get 5 more pictures! Lets hope i find more older horns soon. 8)